Trash to Treasure
The story of Kilgarth Triangle and its transformation into Scotland's first Resource Mining Park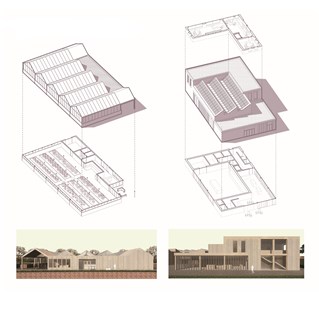 Following my undergraduate degree at The University of Liverpool, I completed a year out in practice in St Albans with Milligan Knight Architects as a Part I Architectural Assistant, before enrolling to undertake my master's degree at The University of Strathclyde. During my fourth year here I had the opportunity to expand my skill set acquired in my previous education and work experience on a wide range of projects where I tried to step out of my comfort zone and test new design principles and typologies as well as presentation styles through various media and design and rendering tools.
At the start of my fifth and last year as an architecture student, we were given the task and opportunity to respond to a challenging but important theme, that of URGENCIES by selecting a pressing matter in our society and exploring and representing a new way in which architecture can contribute to finding a solution. I have chosen an underrepresented theme in both architecture school and profession, that of waste generation and disposal and have envisioned a new model to replace and enhance the current outdated and unsustainable waste management industry.
-
Background
Since the Industrial Revolution, overconsumption has led to an accelerated rate of residual waste production. This, in turn, led to an increased strain on the waste management system, whose strategy was to rely more and more on the practice of landfilling, forever burying discarded resources that our society was unwilling or incapable of giving a second life. The Zero Waste ambitions Scotland put forward in the past years have shined a light on the negative environmental and economic impacts of trapping resources in landfills, but given a lack of proper infrastructure, landfills are still widely used to process residual waste streams. There is a great opportunity to address the shortage in sustainable and efficient infrastructure that deals with current and future waste streams to stop valuable resources from being trapped in landfills in the future, as well as to shine a light on past landfills, not only to remediate them and eliminate their environmental impact but also to acknowledge them as useful resource reservoirs, waiting silently to be tapped into and to be reintroduced into the economy.
This thesis imagines a new industry for the 21st century: 'waste mining'. A critique of the current waste management system, it combines recovery processes, production, manufacturing, and sustainable consumption avenues to remediate not only our environments but also our consumption and disposal practices.
Conclusion
As a society we are in great need to find a better way of managing our resources. As such, this thesis is envisioned as the beginning of a discussion that revolves around the possibility of a new industry for the 21st century and urges that when considered holistically and part of an integrated framework, landfills can turn from the last point in our economy and a shame to our society into a catalyst for change.