Urban Housing and Barras Complex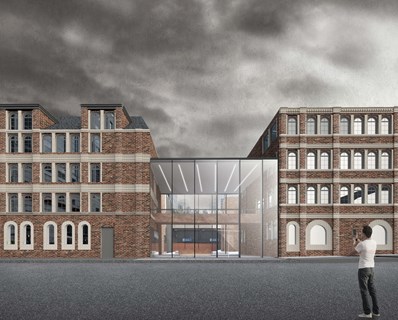 AB317: Urban Housing: "Terpsichore" - 
On this project, I aimed to create a housing block focused on dancers and performers in the South part of a wider master plan in the Candleriggs site in Merchant Square downtown Glasgow. 
"Dance is a form of artistic and athletic expression which generally refers to the movement of the body, usually rhythmic and in accordance with the music."
Dancers communicate and express different emotions through their body. The housing block offers communal spaces like dance studios, practice rooms for people that come from the same background to interact. It also offers a physiotherapy centre that provides help and relief of muscle pain with chill baths or massage rooms and a central stage on the ground floor for workers to perform and provide entertainment, while being in a safe place. When studying this user group I divided them into 3 categories. People that lived alone or travelled and were looking for a temporary stay, couples with kids or single parents with a child and finally people living by themselves. Living in a co-housing environment can help in maintaining mental health and well-being.
AB318: Undergraduate Thesis: "Barras Complex" -
This project was focused on the design of a performance space in the Barras area in Glasgow. The site we were given was pretty interesting with the Pipe Factory buildings standing out the most to me. I focused on the two buildings on the South part that were away from the residential parts of the site and had nicer views like the Barras Gate and St. Luke's. By having a multipurpose building more daily life would be brought to Moncur street as well. "PEOPLE MAKE GLASGOW" could be by connecting sports and culture and thus creating unique spaces. Following this idea and developing it further, I provided spaces such as galleries, interactive museums, cafes and extreme sports arenas where people could come together.