The Lion Chambers
A community for living, creating and socialising in the heart of Glasgow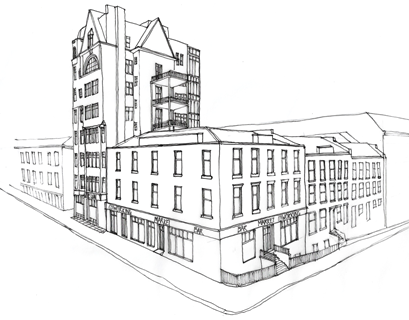 I am an experienced South African architectural professional with a great interest in conservation of built heritage. This is what led me to take up a place in Strathclyde's MSc in Architectural Design for the Conservation of Built Heritage. I have thoroughly enjoyed every aspect of this course and I have relished the opportunity to broaden my skillset. 
I own and run my own firm in South Africa- Living Spaces Architectural Studio- and I sit on several community groups that comment on listed building and conservation area applications. I am an advocate for heritage, sustainability, inclusive urban planning and sensitive design interventions. 
I chose this MSc because of it's focus on design. Unlike many other conservation courses, this one included a Conservation Design Project. As I progress on my journey to become a chartered architect, this design project would be an invaluable addition to my portfolio. It has allowed me to grapple with Scottish planning and heritage legislation as well as building regulations. It has also allowed me to practically implement all the conservation philosophy and theory that we learnt in the first part of the course. 
We were asked to come up with a conservation design for the Lion Chambers on Hope Street, Glasgow. Previously only the 1907 Hennebique ferro-concrete tower of the Chambers has been looked at but as a cohort we quickly realised that the architects had always intended for the early nineteenth century stone Georgian building to be an considered as part of the concrete tower. After careful investigation of the building (mainly using desktop research as COVID limited our site access), I came up with what I thought were the building's main significance indicators. These were: verticality and thinness; the stone and the concrete sections functioning as one building; the ground floor of the tower acting as a plinth; the expression of the tower's structure throughout the interior and the play of light specifically with the northern wall of bay windows.
Using the significance as my design guidelines and the results of our group research into the condition of the building and the wider urban context, I came up with the idea of creating a multi use building that was connected horizontally and vertically and allowed for human habitation at all times. I hope that this contributes positively to any efforts made to conserve this remarkable Glasgow landmark.