A Hebridean Pilgrimage: Self-reflection through nature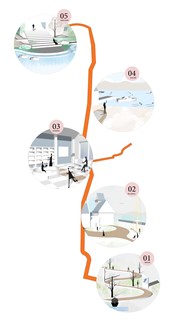 The journey through the course has provided a platform to translate thoughts into design concepts.  I have explored about biodiversity loss during the times climate change in my 5A, to come to an understanding where it must be seen that the future design of our spaces and infrastructure should be based on methods that are beneficial not just to humans but also to the natural world. Choosing Isle of Iona as my point of focus the journey continued to be a further exploration of the place creating a modern day pilgrimage through nature.
Project Description: The radical ecological changes which are consequences of human interventions must be tackled through design that is beneficial not just to humans but also to the natural world. This exploration of how to bridge the gap between the built and the natural environment is the ethos behind the project. 
Drawing seekers from far and beyond with its deep-rooted cultural and religious heritage; the Hebridean island of Iona paves way for a "New age pilgrimage". This pilgrimage is a homage to nature, creating a sense of awareness and respect for the surrounding. At various points of interest from arrival to departure a traveller can experience solace.
The intent is to propose a community led initiative that promotes the idea of co-living of man and his surroundings, keeping education & community at the core. The centre for learning is a welcoming feature to tourists and islanders alike. This could further create a network amongst neighbouring islands to promote circular economy.
On the one hand it advocates circular economy through seaweed farming and education for the islanders, while on the other it promotes visitors to embark upon a journey of self-exploration through the poetic experiences that the place has to offer.
Embarking upon this voyage, brings in a subtle yet profound sense of symbiosis between nature and self.