CEANN A' BHAILE GROVE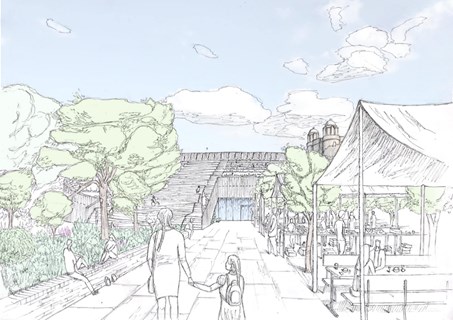 I am a Strathclyde architecture student who has recently completed my third year of studies. I have been particular interested architecture that promotes sustainability and inclusivity which is what drove my unit choice this year. 
Our project this year tasked us with a simple brief that entailed providing a performance space for roughly 100 - 200 spectators for a performance of our choosing. However we had some additional direction of our brief from our tutor, adding an urban food growth aspect and integrated marketplace to be produced in the design with a focus on sustainability. We were tasked with creating proposals that filled in the gaps of the Biophilia Corridor in the Townhead area. 
Ahead of the COP 26 climate conference in Glasgow we were to help imagine a more sustainable and biophilic Glasgow through our designs. Tackling key issues in the city such as, pollution, traffic, fragmentation, biodiversity, carbon emissions and many more.
The design itself aimed to bring the fragmented community of Townhead together under the ethos of sustainability and community accessibility and participation. It does this through the use of flexible market spaces and an adaptable performance space all housed under a single roof. These spaces adapt and change, to take on a variety of performances and events, to engage all ages and groups of the surrounding area in participation as well as the viewing of performance's. This circularity also allows it to adapt to changes in programmatic requirements of the design, keeping it relevant to whatever the future throws at it. The design is self sustaining providing all food for the market on site through rooftop, terrace farming that sits on top of this large "disc" like structure as it "crashes" into the ground, blending with the landscape. The design utilises sustainable and natural materials from construction to finishes, creating a design that directs the community to a more sustainable and environmentally friendly future, helping foster this in the next generation.