THE ASSEMBLY OF EXODUS BORDERLAND
Free Hong Kong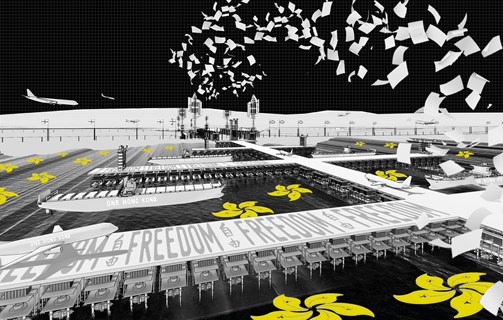 Borderland, a speculative city for immigrating HKer in between the border of Scotland and England. While Hongkonger wants to mass immigrate to break away to China, people in Scotland also ask for independence.
This proposal is a hypothesis idea setting up Hong Kong who was a British colonial to reinform as a border city in-between England and Scotland. It will not only meet the border security function but restructuring its own economy, community, renewable energy, food production along the wall. From the outside this architecture is a sequence of serene monuments; the life inside produces a state of freedom symbols.
This project is important for 3 reasons.
This is a sort of lifeboat to settle 2 million Hongkonger who held BNO passports due to the hopeless future in Hong Kong right now.
Preserve Hong Kong unique identity and create its timely significance to perpetuate these precious characteristics; our identity, history, and cultural values through architecture.
Develop a dismantlable urban and architecture theory to reflect how HKer distrust eternity after experienced "Hong Kong Handover" and "One Country Two Systems.
Here, this proposal speculative the futuristic linear border-city possibility and believing HKer live in border without border.