River's Edge
Greenock's Shipyard Reimagined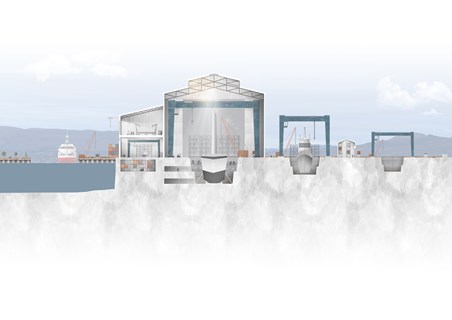 The three key issues preventing the growth and development of the West Coast Town of Greenock have been identified as;
1. A lack of heavy industry to replace lost jobs
2. The town's disconnect from its past
3. The River Clyde acting as a barrier rather than an asset
'River's Edge' aims to address these issues in one design proposal by developing a new shipyard on Greenock's riverside. The new development will reflect the town's vast history of the industry, creating opportunities for employment and education whilst utilising the town's most abundant resource, the River Clyde. The re-introducing of shipbuilding and repair, with a keen focus on the research and invention of sustainable, renewable-powered vessels, will become the starting point in the larger master plan that will encompass most of the town's edge.
The education hub contains various workshops and classrooms, with a tiered auditorium built into the slope side to accommodate the guest lectures from leading people within the marine engineering industry that will be invited to visit the facility. The hub's proximity to the contemporary shipyard allows for the students to gain vital hands-on experience in their chosen field, as well as access to the most up to date technology available. There is an opportunity to connect with other educational institutions, encouraging students from all over the world to visit and study at the shipyard.
The new Cartsburn Shipyard will act as a catalyst for change for the town, as the first step in a proposed master plan that will affect most of the town's river frontage. This future master plan will play an important role in further assisting the positive development of the community, with new employment, tourism opportunities and educational links being made a reality. The master plan will commence with the construction of the new shipyard, and then through the future development of an extended cargo port and culture centre.