From Shadow to Light
An enhancement for Constantine's forgotten community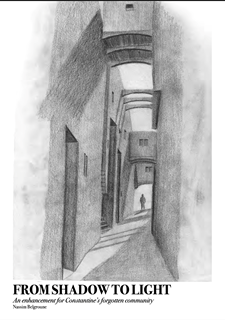 Constantine, like many Northern cities in Algeria, are facing similar urgencies. Characterised by their traces of overlapping eras the city of Constantine and more specifically the old town of Souika is suffering from neglect In the time of globalisation and continual standardisation, the richness and qualities of the old towns are being threatened at a alarming pace. In the space of 10 years,1984-94, around 40% of the houses were destroyed, increasing significant amounts of vacant land.
"Who will live in Souika after the works? " certainly not the current inhabitants, even if the POS proposes a rehousing plan". (Boumaza, Z., 1998)
Narrative
It is more appropriate to look away from conventional master planning ideas of a red line boundary which fits everything within it and creates a finished product as this is too rigid. It is more than just a program to modernise the built heritage as this alone will not solve all the problems of the old town and to rehabilitate is not to restore what was there before. Instead a more sensitive approach is taken that designs within the cracks of the existing fabric in a parasitic nature that utilises an incremental process which forms through time. This will shift from a bases of core improvements to structures to more consolidated intricate buildings and pathways with higher density.
This project sits within the context of two generations in Souika, by planting the seed by which the beginnings may be small but eventually as the scheme branches out it will grow in complexity and level of 'completeness' each meeting the needs of every family. The parameters and base set of enhancements within the architecture will be will be defined which in time will relate to an expression of spontaneous evolution that is natural to the vernacular language of the site. It has been shown that throughout its history the housing, markets, bathhouses, bridges and routes only existed one after the other under specific conditions reacting to their limitations of space while continually being added to and evolving.
Key moments
Along this evolving process there will be a series of chronological key moments in time which will affect the way the strategy will unravel. These interventions will be based on four enhancements varying from large scale changes such as reconnecting the area back to the rest of the city to smaller adjustments and spaces that give the community their voice back. This gradual process will help to counter the deterioration with the overarching theme of reviving the shadows that once were the soul of old town and its memory of place, in order to preserve and adapt it for future generations.