Year 3 Design Studies Projects
To Live & To Play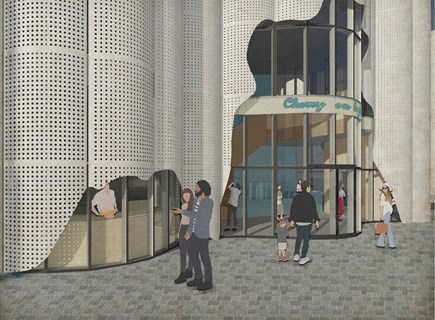 3A - To Live
Garden Residence in Merchant City
The main user group for the housing was young adults. There are 22 flats in the building, using four different types, where all has its own balcony. Flats are placed between the first and fourth floor, while the ground floor is a communal room and two accessible green roofs are available for the residents. One on the fourth floor, which is a playground and the other one is on the fifth floor.
The North elevation follows the context of the existing building, so a grid like façade was created. The dominating building material is brick. The metal elements of the façade were used as a visual distinguisher for private and public parts of the building. The brick was used in a similar way: playing with the brick texture, creating negative (brick screening) and positive textured facade element, which gives a sense of playfulness but also separation.
3B - To Play
Cherry on Top
This is a thesis project, which is a building that is dedicated to baking. It contains a baking school, bakery and studio area, where baking shows can be recorded. Looking at city centre of Glasgow, it lacks bakeries and this project, tries to improve that. The ground floor houses the bakery, while the baking school is situated on the top floor. The recording studio sits between them.
Cherry on Top is a glass building with a second skin, which consists of perforated metal sheets, cut to form a dripping effect on the façade. The building is lightened up during the night-time. This is achieved by using LED linear wall grazers placed at the bottom and top of the frames.