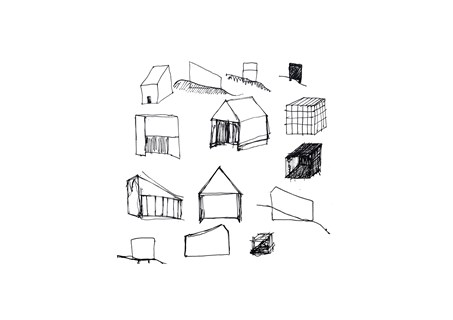 Before arriving at Strathclyde, I studied at Edinburgh College Art&Design and Architectural Technology. I found some of my previous experience helping with certain subjects, however, I have experienced that some of my knowledge was quite disturbing during the design process.
I think that our goals and interests in architecture change as a part of the process. In college, my greatest interest was the relationship between architecture and the environment. Currently, I am learning more about the economic and social aspects behind the design. I like to see what was great in the past and how we can achieve better standards with currently available materials and techniques.
In this showcase, I would like to share few pieces from the projects carried in year 1. In semester one, I was asked to design a temporary pavilion in Kelvingrove Park that would accommodate the artwork of Kate V Robertson. I decided to focus on the word TEMPORARY, and I proposed pavilions that could be built overnight. Artist said that she likes when people engage with art, and it gets "worn". My design doesn't have doors or windows and erases the boundary between inside and outside.
In semester two, we had to design a contemporary art gallery in the city. My group had to focus on the Govan area in Glasgow. In this project, I developed my interest in the relation between architecture and community. And how the buildings can change the way people living. I wanted to embrace the rich history of the given area and bring the community together.
This year was very challenging for everyone, I am looking forward to being back on campus and explore the studio and library. I cannot wait to develop my digital skills and work with my colleagues.