Laurieston Marketplace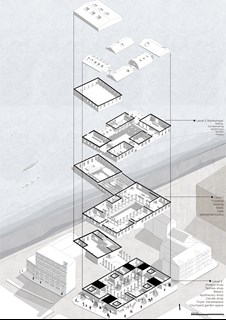 The design process of Year 4 accumulated of exploring and investigating your own brief in an enjoyable manner. In my experience, it required challenging your own skills to produce an integrated proposal of a brief in respect to the attributed Glaswegian district. Laurieston is the district my unit focused on.
The aim of my project is to support local businesses, craftwork, and skill of Glasgow under a singular manifesto. Implementing a public marketplace within the overall plan of Laurieston is vital for the development of Laurieston as it will be a cultural establishment of showcasing and teaching Glaswegian skills based on existing local brands. This proposal will strengthen Laurieston's identity amongst other districts by teaching five skills in five workshops; candle making, baking, apothecary, weaving, and pottery. The workshops will include showrooms to showcase and sell locally produced goods. Also, a market hall and food hall will be featured to introduce local brands starting off. 
The marketplace site boundaries are situated within a plot that encompasses the vacant Laurieston house which overlooks the river Clyde. Laurieston house neighbours Georgian style housing on the waterfront which is ideal to situate the main entrance of the marketplace for a connected social interaction between the city centre and the Laurieston community. The concept of repurposing and preserving the Laurieston house-crafted facade influences and initiates the progress of the materials chosen, the spatial environment and the form of the marketplace. 
Designed elements within the project proposal arose from the modification and implication of existing architectural elements within the plot the site is situated on. In other words, existing architectural elements were the initial basis block to sculpting these elements that accent throughout the project proposal just as the intricately and ornate crafted architectural elements of Laurieston do.